Welcome to SixieNet!
The place where Cybersix Fans get free hosting!
[an error occurred while processing this directive]
NOTE:  Switchover changed to 9:00 8/13/05
(I was doing charity work that held me up this last week)
Countdown to switchover:   
What's with the move?
I had to pay for every extra ftp/web user, limiting the number of people to whom I could give web-sites. 

All the user sites were jumbled together and weren't private to each other.

The tools to manage the site were only available to me, not to everyone.

The tools to manage the site are pretty pathetic.

We had problems enabling people to run CGI programs: Tossy is familiar with the problems we had trying to get the Sixies Oekaki on-line.

Limited MySql databases. 

The webhoster seems to have changed some defaults that is messing up some of the sites.

I want to host other sites for people who are not as net-savvy, so getting a reseller account that has good features was a factor.
What improvements can we expect?
    Sixies.net was hosted using a business-based hosting plan, which made me a lowly user with limited options.  With Ace-host.net, I got a reseller account, which enables me to get, and thus to pass on to y'all, the following benefits:
Ability to host independent websites.  These can be tripod/angelfire-style subdomains of sixie.net or sixies.net (waiwai.sixie.net/frundock.sixies.net).  Alternatively, if you own a domain name and have the capability of setting the domain's nameserver, I can host YOUR website!  (

Usual restrictions

apply regarding porn, hate sites, and violations of copyrights.)

Each website will be physically independent of the other, enhancing privacy and separability of the sites.

Each website will have its own ftp user so you can upload your website. In addition, it is Frontpage enabled, so you can use the personal version of Microsoft Frontpage to edit your website.

Each website is capable of running cgi-scripts without me getting involved. 
    So far, this sounds like Angelfire or Tripod without the dumbass restrictions.  However, there's still more goodness involved.  Y'all will get:
60 MB of disk space (more if you need it.)

3GB of transfer (more if you need it).

Change your password and update your contact e-mail.

Create up to 6 subdomains (blog.carpstail.sixies.net), pointing each to any sub-directory.

Create up to 6 ftp users and let your friends upload stuff to your website.

Park up to 6 domains. (are you getting the pattern?)

Create and manage up to 6 MySql databases.

Have multiple e-mail accounts.

Manage your website using CPanel.
What's CPanel?
    I wondered about that too: every site that advertised it made it sound better than sliced bread.  I finally decided to temporarily sign up with Ace-Host and see what the buzz was all about.
    As a website management tool, CPanel (with Ace-Host additions) is INCREDIBLE: I keep picking my jaw off the floor as I come across one feature after another.  Yeah, moving your site will be something of a pain, but once you've moved, you'll wonder how you've managed without it!  Since a picture is worth a thousand words, here's a few screenshots of the sixie.net CPanel, whose limits are higher than what you'll be getting as a default.
    Here's the top part of the CPanel page: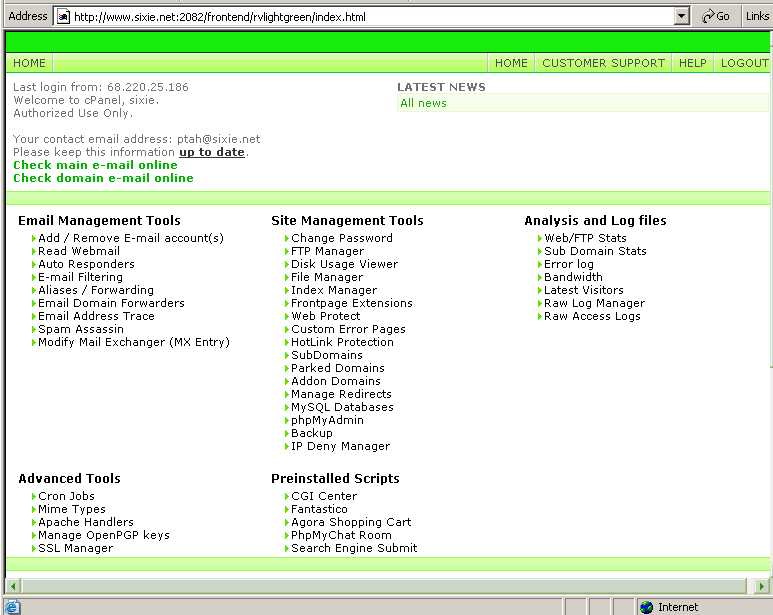 Everything you see here you get, and CPanel won't show what you're not capable of using. even though (like me) modifying stuff like MX Entries might be giving yourself enough rope to hang yourself.  Be sure to check out "Fantastico", under "Preinstalled Scripts", which automates the installation of all kinds of Open Software programs, including content management systems, blogs, galleries, and bulletin boards.  And you've simply GOT to check out "File Manager" under "Site Management Tools": the html editor that's available when you select an HTML file is pretty darn good.  How good?  I usually use Netscape Composer for all my webpages, but I prepared THESE pages using the HTML editor, and I PREFER it to Composer (press Shift+TAB to get the paragraph indent.  Finally, an HTML editor that DOES it!)
    The bottom half of the CPanel maintenance page contains details about your site: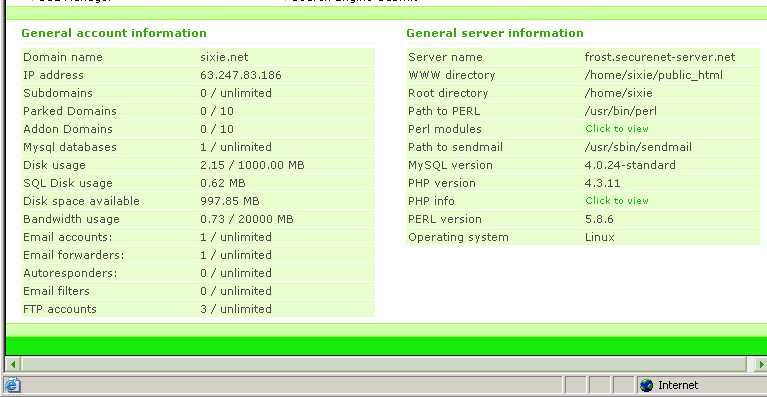 Site specific stats on the left, and web programming details on the right. 
What are the limits?
    The usual blah-blah.  Go here and skip down to the acceptable use policy.  If you're under 18, and you stay within the guidelines, I'll be able to vouch for you.
Sounds good!  What do we do now?
    At the top of this page are links to other pages detailing what's available and instructions on the move.